Hot Diggity! That's about the best I can come up with to describe what we're seeing from these post-shutdown numbers coming back. We knew things were coming back strong, but no one expected us to bounce back THIS strong. When we started to see the numbers drop, many feared the worst thinking values were going to tank, but no one thought we'd recover strong enough to make up for lost appreciation.
_________________________________________________________________________
Real estate is local. What's happening nationally doesn't determine what is happening here in Denver, CO. You wouldn't get your weather from a meteorologist in Florida or New York, would you? You shouldn't get your real estate updates from outside sources either. National news does a fine job of giving us an overview of the economy and market across the country. It doesn't tell us what's happening in Denver real estate. Even local news is more about headlines for clicks than it is about reporting clear facts.
That's why it's great you have a friend in real estate! I take the local numbers and break them down to help you understand the driving forces in our market. Below are the graphs and numbers along with my breakdown of what's happening in today's Denver market.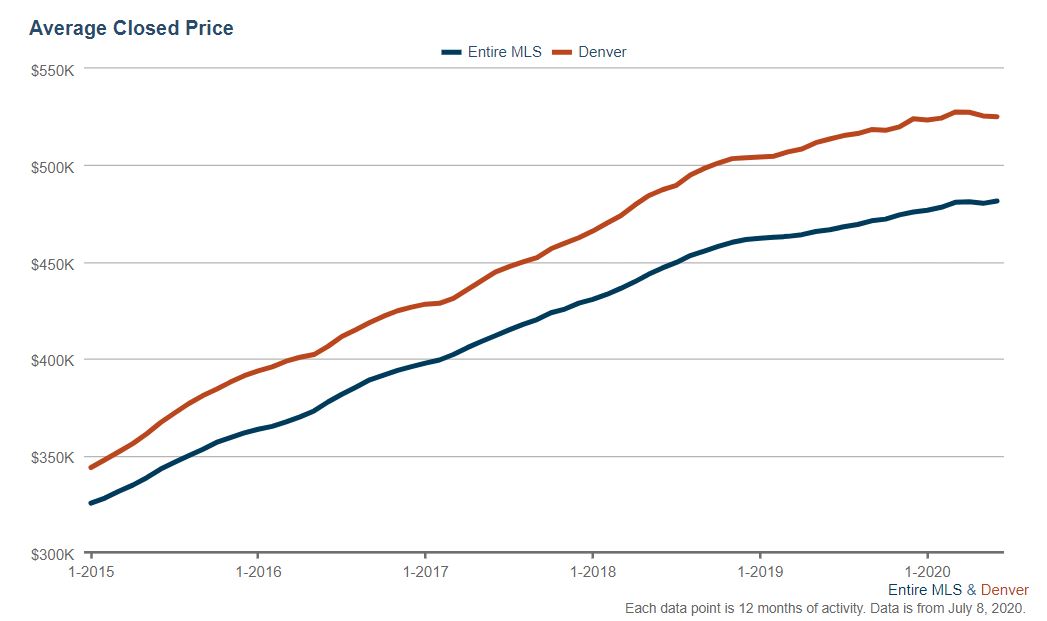 We continue to have a strong showing in real estate this year despite COVID-19. So far, our state is fairing OK with the Governor's Safer-at-Home orders, but that could quickly change. ? At this point, we've surpassed the total number of properties put under contract relative to the 7 year average. And total closed deals is not far behind! Buyers continue to buy homes, inventory is staying low, closings are still happening, and values are holding strong. We're up 2.3% in Denver from the same month last year.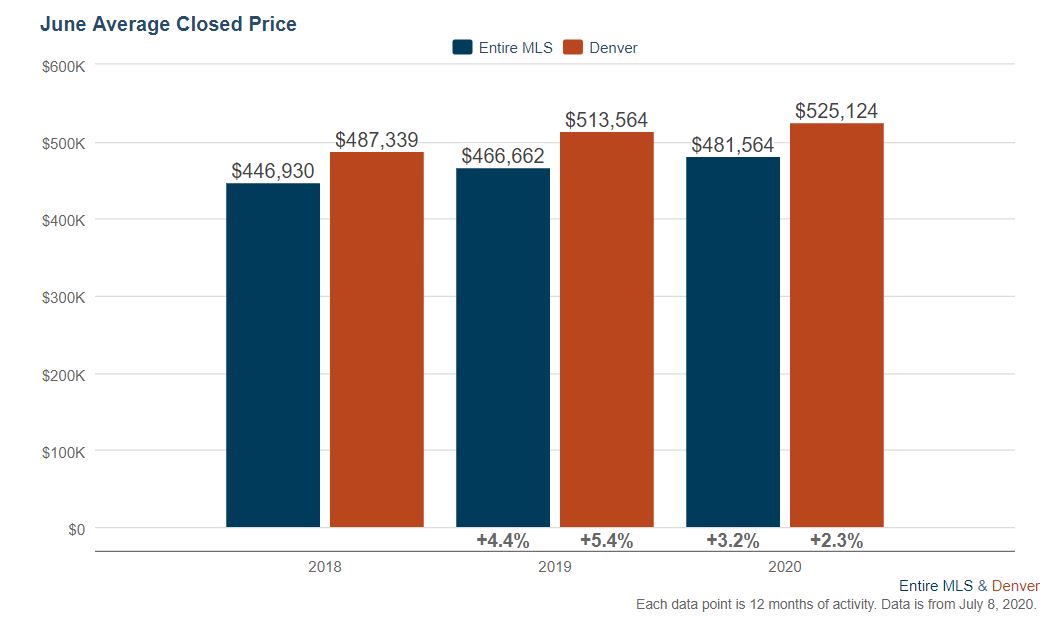 Since this is based mostly on prices that were negotiated in April/May, this is a lagging indicator of our market and I don't give it much weight. We're down ever so slightly month over month in Denver but our up slightly over our entire MLS at $525,124 and $481,564 respectively. So, the average price went up by about $1,200. We're going the wrong direction for buyers looking for big savings. And based on the continued activity, I'd bet prices are up even more next month! In short, values are holding strong.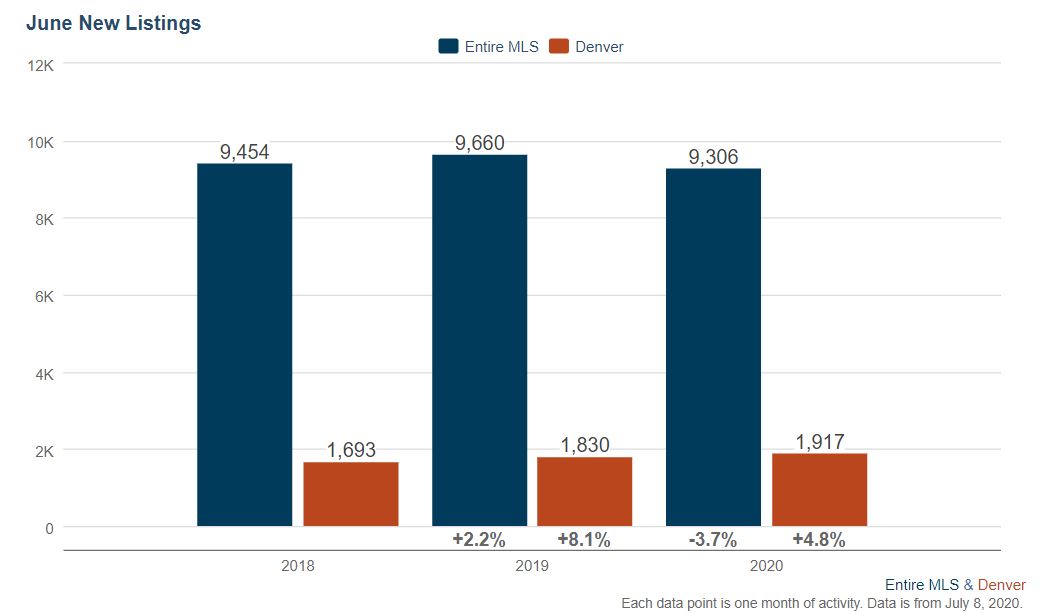 As far as new listings hitting Denver's market in June, we see that we were up 4.8% over last year with 1,917 new listings in Denver but that's only 8 more than last month. We're down only 3.7% from last year in the entire MLS with 9,306 new listings in May – about 180 more than last month. This is WAY better than 2 months ago, but certainly not enough to make a serious dent in our demand. This is one side of the coin that drives market values.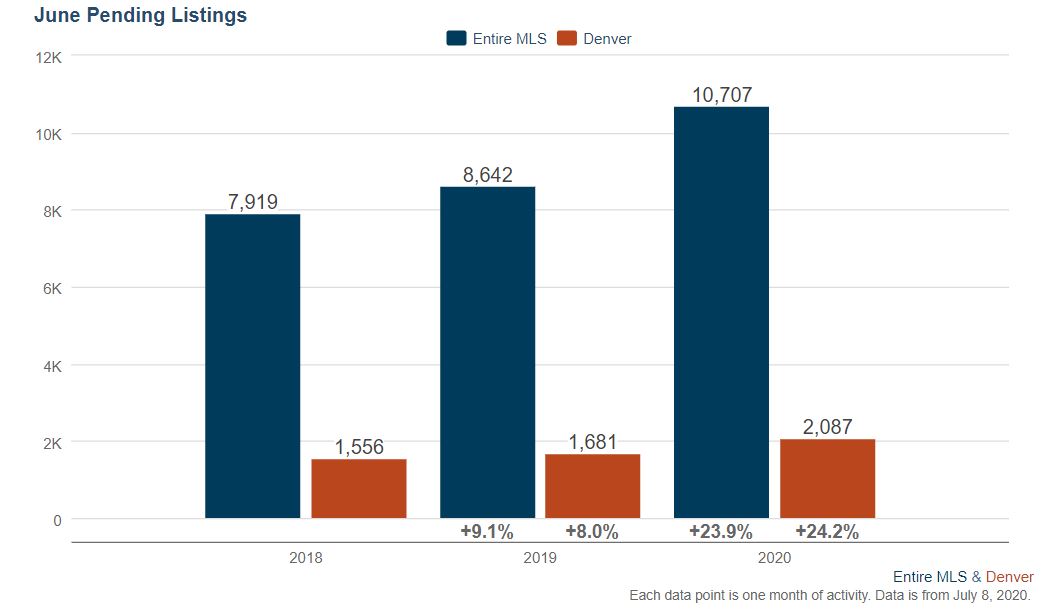 In the same month we saw 1,917 new listings come to the Denver market, we put 2,087 listings under contract. So the buyers outpaced the sellers this month by 70 properties in Denver! That's up a huge 24.2% over last year! The relationship between new listings and properties put under contract is what drives our market. Be aware, this doesn't account for all buyers searching… just the ones who had their offer accepted. Our days on market, % of homes selling for over asking price, and even % of homes selling in 7 days or less tell us that buyers are trying to buy, but many of them are being beat out and are still searching. In the whole MLS we had 10,707 properties go under contract with only 9,306 new listings. Our buyers outpaced our sellers by about 1,400 properties. That's up a whopping 23.9% over last year! The story here is that our sellers are not keeping pace with our buyers. That's not good for our current buyers who are looking for something… it just means they're competing more!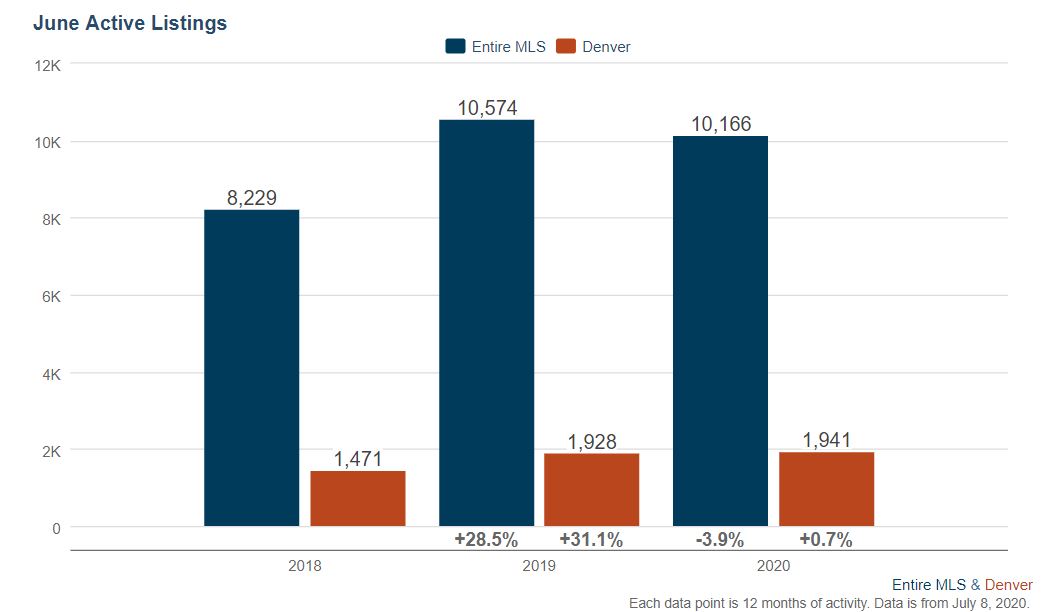 In Active listings in Denver County, we're sitting at 1,941 listings which is relatively flat compared to the last few months. The whole MLS is a bit lower, but not by much, relative to previous months at 10,166. We're just not seeing the inventory we need in order to get out of this extreme seller's market.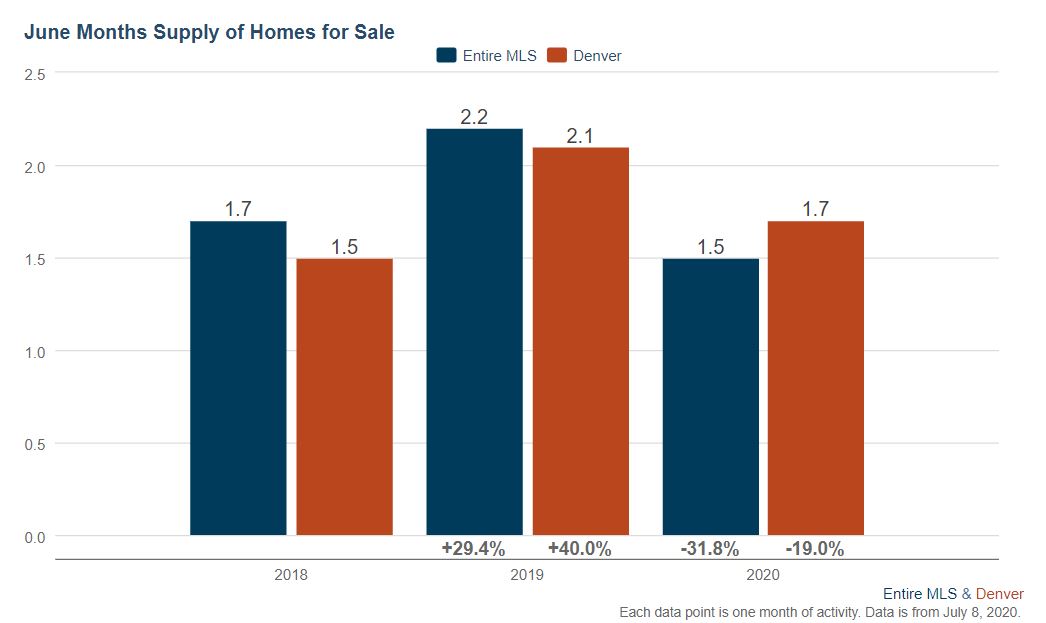 OK, now for the number to watch–"Months Supply of Homes" also known as "Homes per Buyer". In a balanced market, we'll see 6 months of inventory or 6 homes per buyer. This gives enough selection for buyers that home values stay flat. Currently, we have 1.7 homes per buyer to choose from in Denver and 1.5 across the MLS. So if no new homes come on the market, then we'll run out of houses to sell in about 45 to 50 days. While that's not quite as extreme as 2 years ago, it's actually still a VERY strong seller's market. Call me to start selling your homes!!!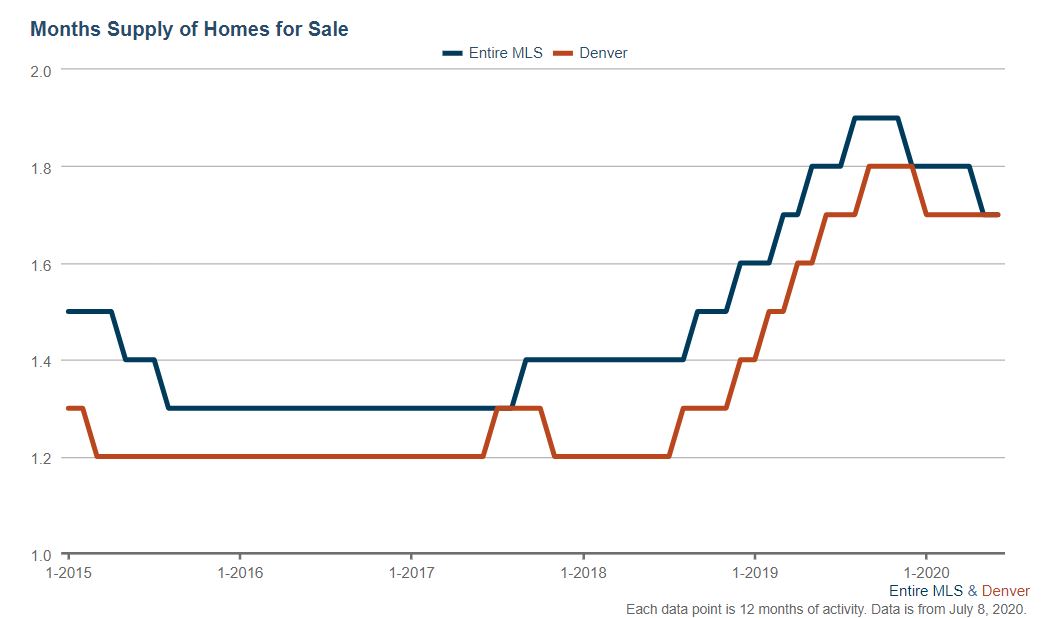 While this may be the one of the higher months of supply we've seen since July of 2014, you can see we're still in this extreme Seller's market AND it's heading down back, not up! As our supply continues to stay at less than 6 months, we'll continue to have upward pressure on prices. If you're waiting for homes values to start dropping, we'd need there to suddenly be over 40,000 homes in our MLS. We have just over 10,000. OR we could also suddenly lose 2/3 of our buyers. Despite what's going on with the pandemic, we're just not seeing those kinds of changes. People will always need a place to live! Reminder, we haven't seen a 6 month supply of homes in Denver since June of 2011.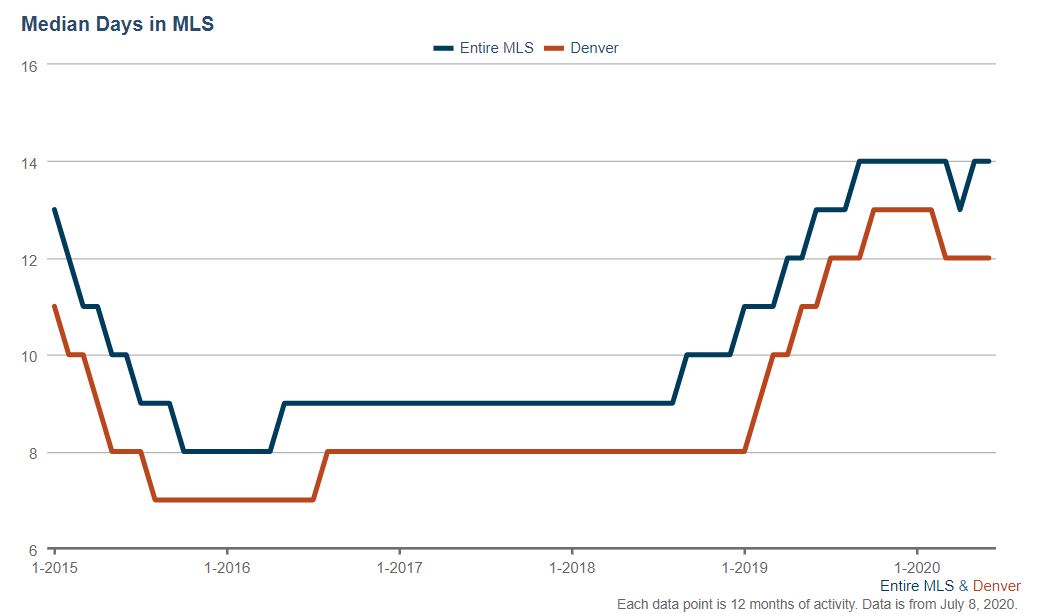 With low inventory, we get low days on market. Our average days on market is sitting in the low 20's, which is very low compared to January 2011 where we were at 111 days. And we've seen relatively little change in that over the last few years. Buyers have come out strong from the statewide Stay-At-Home orders which created a late push in our market. While we once thought it was too little, too late to catch our market up to the anticipated appreciation we expected this year, we're starting to see numbers that indicated otherwise. Either way it's certainly keeping our inventory low while putting upward pressure on prices which has been keeping them from dropping by any significant amount. Historically low interest rates have been giving our buyers a small reprieve (they can afford more home today than a year ago), but they're still competing against multiple offers. We anticipate the competition dropping off here in July, but we're only just now starting to see leading signs of it potentially happening. As you move up in price range, the days on market go up quite a bit. (There are some luxury price points that are in a Buyer's Market right now.) As you can see in the chart above, the Median Days on Market are still up since mid 2018, sitting at 14 days for the whole MLS and 12 days in Denver. This all tells you that anyone can get a home sold. But it takes a professional like us to ensure you're getting the most money in your pocket at the end of the day. In a buyer's market, a bad listing agent is obvious… they're the ones with houses they can't sell. In this market, nearly all the homes sell. So, it's not a matter of IF an agent can get it sold, but for how much! That comes from pricing your home right from the start and strategically marketing the home! We typically see 90% of our appreciation for the year happens between Jan 1st and the beginning of June. We seem to have "flattened the curve" this year, causing this 2nd "post-lockdown" push in values. With interest rates so low, you're likely going to save WAY more on your purchase today than the few bucks you might gain by waiting. Economists and lending specialists have been saying that as the economy starts becoming more stable, interest rates will go right back up. So, if you're waiting to see how things play out and stabilize, you're going to be too late.
So, what's the bottom line?
It's a Seller's Market. It was a Seller's Market before the pandemic and it's going to continue to be a seller's market for the rest of the year and probably next year too. We're starting to see strong numbers that show we might actually catch up to the previous 7 year average. It's already stronger than 2019 was and this is with a pandemic going on!
The reality is, the pandemic only slowed our market down for a moment. It's kind of like we hit pause for about 45 days. Once we unpaused, buyers came out with a vengeance and we've basically caught back up. Even as I track the weekly leading indicators, we're not seeing any movement to suggest a net decline in prices anytime this year. And there's no reason to think a significant decline in prices is anywhere on the horizon. To be frank, these are probably the cheapest prices you'll ever see in Denver!! It's crazy to think about, but look at buying today like buying in the mid 90's. Don't you wish you owned real estate from back then? In some areas and some higher price-points, we're seeing a slowdown, but not a downturn. In other areas, we're seeing more activity than ever!
We'll get back to a buyers market eventually, but there's no way to know exactly when. And if interest rates go right back up, then who cares because you'll still be paying more every month! When we do finally get back to a buyer's market, prices will never get as low as they are today. If history holds true, prices will only flatten for a couple years before taking off again! When will that start? If I were to speculate, I'd still say we have at least another 14 months and possibly 2 years or more. That means, if you don't own now OR if you're looking for a change, then if you act now, you could have two more years of great appreciation before prices level out for a few years! Bottom line, the quicker you get in your next home the better off you'll be.
What will drive an inevitable slow-down? A second wave of COVID-19 combined with an extended lock-down could have an effect. However, we already figured out how to work in this "new norm" and while people may be able to push pause on their housing needs for a moment, it doesn't seem like they will just stop. Interest rates going up will make purchasing a home even more expensive in Denver. That's not happening until after the election… and probably not this year at all. As home values continue to rise and wages stagnate, home affordability will continue its downward trend meaning fewer buyers can afford to be in the Denver market. It'll be interesting to see how wages fair post COVID-19. Low interest rates and gains in wages will continue to support our seller's market and delay any transition to a buyer's market.
Conrad Smith
Your Real Estate Consultant
REALTOR®, BOLD, EcoBroker, CNE, CHRE, ILHM, KW Luxury

Professional Denver Real Estate for the Urban at Heart

www.UrbanProHomes.com