Real estate is local. What's happening nationally is not always what is happening in Denver, CO. You wouldn't expect sales up in the Colorado Rockies to be the same as what's going on in the front range. So while the national news does a great job of giving us an overview of the market across the country, it doesn't always align with the Denver real estate market. I take the local numbers and break them down to help anyone understand the driving forces in the market. Below are the graphs and numbers along with my breakdown of what's happening in today's market.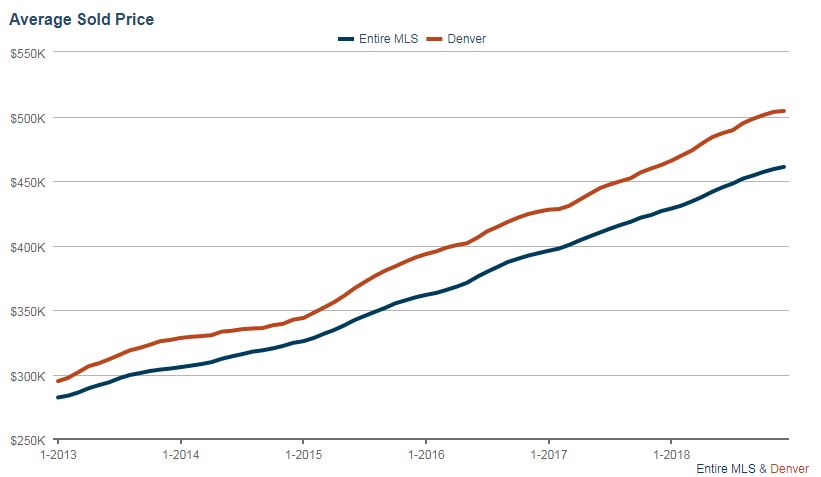 Denver home values are staying strong!! As you can see, on an average,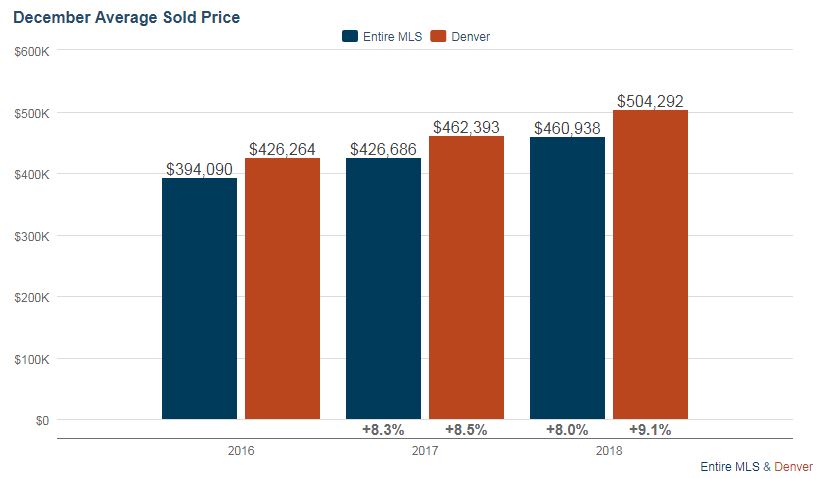 we saw a slight leveling of prices, typical for the last 5+ years. We're up in Denver by 9.1% year over year for December at $504,292. While that's down less than $10k from last month, it's right on trend for December. And the upward average price trend continues. We expect the Average Sold price to start increasing in Jan/Feb. This makes it a great time to move up!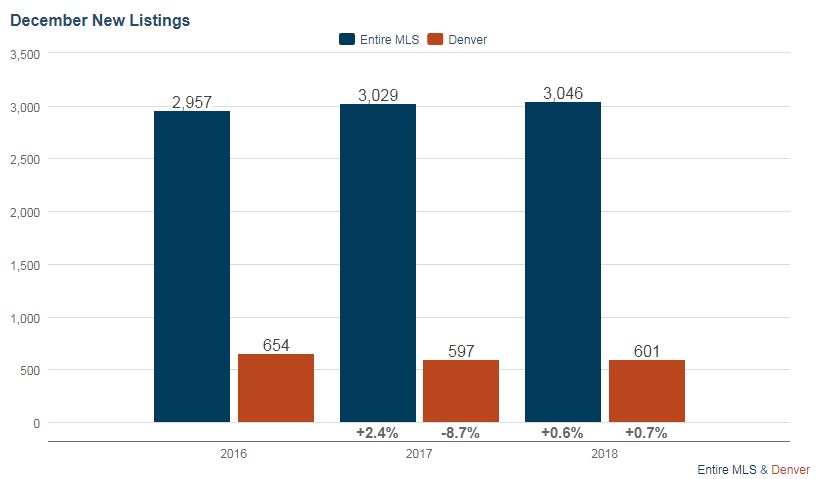 Looking at new listings hitting Denver's market in December, we see that we're up .7% from last year at this time. We're down from last month, but that's very typical for December. With the holidays, most don't like to list their home unless they have to. We'll see this number move up over the coming months, but I'd expect our active listings to actually go down as buyers outpace the new listings coming to the market. This is one side of what will drive our appreciation for 2019.
While we had 601 new listings come to the Denver market, we put 836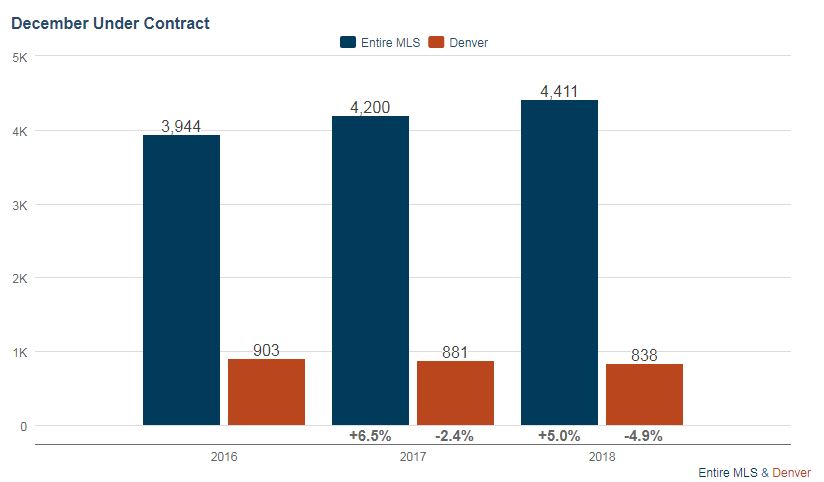 listings under contract! As long as the number of real buyers continue to outpace the number of new listings, we will keep seeing values go up. Across the entire MLS, we had almost 1400 more buyers than new listings. This is all putting upward pressure on prices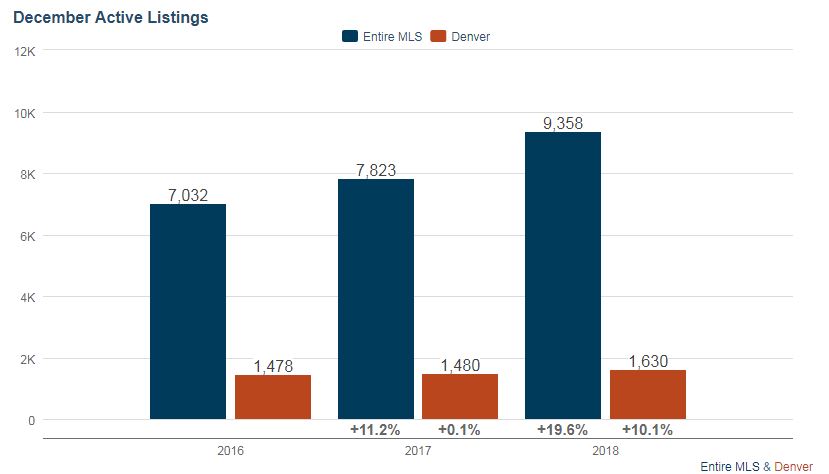 We're still sitting in an extreme seller's market. In Denver County, we have only a total of 1,630 homes for sale. That's an increase of 10.1% over December 2017! But it's still 1/3 of the homes we need for a balanced market. Our entire Multiple Listing Service gained inventory by nearly 20% from last year at 9,358 but only gained a couple hundred more homes over last month. Most of this 20% increase is due to the expansion of the service area our local Multiple Listing Service now covers.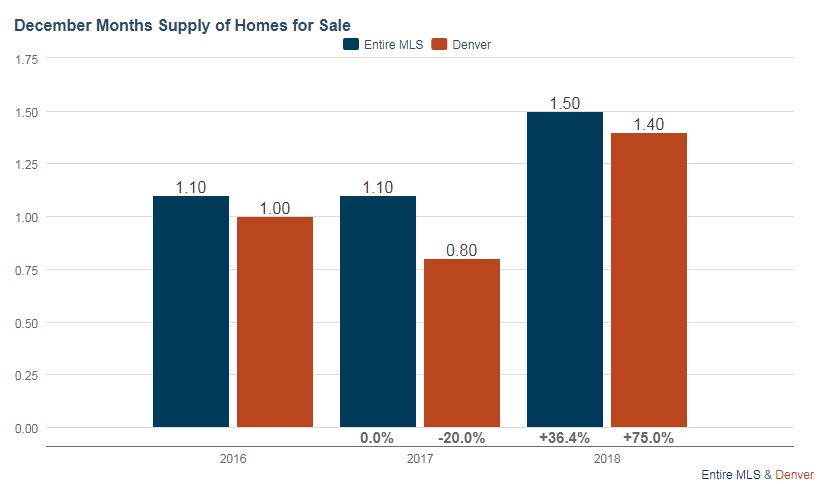 So, here's one of my favorite numbers to watch – "Months Supply of Homes" or it also works "Homes per Buyer". In a balanced market, we'll see 6 months of inventory or 6 homes per real buyer. This gives enough selection for buyers that home values tend to stay flat. Which means as we continue to have very few listings for buyers to choose from and our buyer demand keeps up with the new listings coming on the market, we'll stay in a seller's market. Currently, our month's supply is now sitting at 1.4 months which is a bit lower than where we were in Denver last month. This is still a lot higher than last year at this time, so we'll want to watch this to see where we stand through January.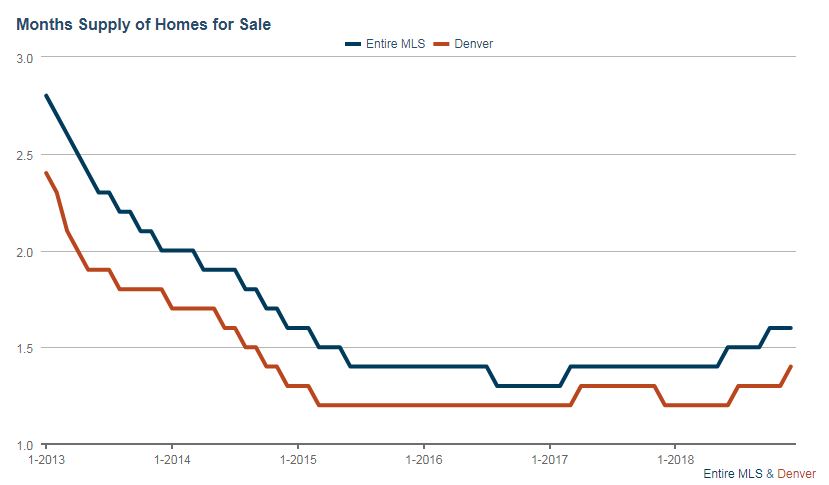 While again, this is the highest months of supply we've seen since July of 2014, as you can see, we're still in an extreme Seller's market. As our supply continues to stay at less than 6 months, we'll continue to have upward pressure on prices. If you're a buyer waiting for homes values to start really going down, we'll need more than 21,000 more homes to suddenly appear in our MLS OR TRIPLE the number of homes in our market! OR we could also suddenly lose 2/3 of our buyers. With Denver continuing to attract companies and as more people find out the greatness that is Colorado, there are no signs of buyers going away. It's just too amazing for people to suddenly stop buying here – even as interest rates continue to rise! Reminder, we haven't seen a 6 month supply of homes in Denver since June of 2011.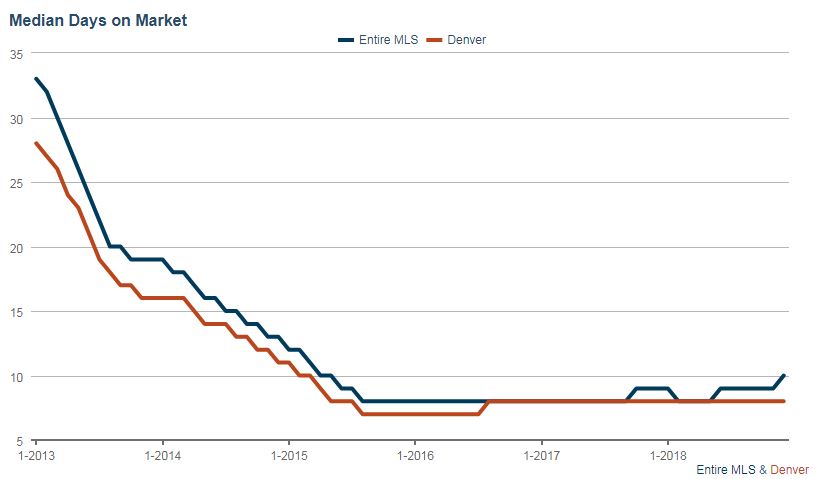 Low inventory keeps our days on market low. While our average days on market has been sitting at around 30 days, that's still very low compared to January 2011 where we were at 111 days. And it's basically no change over the last two years. At Urban Pro Homes, our listings are still selling quickly at about 7 days on average. Compare that to the other agents in the MLS and you'll see about half of the homes are selling in about 2-3 weeks and the other half are taking quite a bit longer. As buyers have more selection to choose from, overpriced homes will sit on the market longer. This number will likely go down in January. December is often when less motivated sellers just leave their home sitting, praying some other agent will sell it for them. It is crucial that you hire a professional like us to ensure you're pricing your home right from the start! This also makes NOW the best time to buy, even if you have something to sell or even if you're "stuck" in a lease. You're likely to save more on your purchase today with lower interest rates than the few extra bucks you might get by selling in the Spring. I've been offsetting the cost of breaking a lease for my buyers by taking it off the purchase price and making the seller pay more of your closing costs. If we act quickly, we'll still be able to beat the other buyers to the market and get you a great deal.
So, what's the bottom line?
Our market is strong. We have are seeing a typical seasonal slowdown. It's not unexpected nor is it alarming. Starting in Jan/Feb we'll see limited inventory pushing up home values again. Just don't expect it to be the same as years past. It'll be similar, but not the same. I foresee us having just under 10% appreciation in the next year.
What will drive an inevitable slow-down? Interest rates going up will make purchasing a home even more expensive in Denver. As home values continue to rise and wages continue to stagnate, home affordability will continue its downward trend meaning fewer buyers in the market.
And job growth is bringing well-paid professionals to Denver who can afford our city. We get lots of buyers from California and New York who think our prices are a steal!! Everyone from Texas thinks our property taxes are amazing! We still have too few homes available for the buyers wanting to buy. Meaning, we will continue to set new records for our average sales price. So, until either more people leave Denver than move here or we build significantly more housing, we will continue to stay in a seller's market. As the market adjusts, Urban Pro Homes will be watching to ensure our clients get the best!
Here are some of the key points:
We're getting ready to leave our seasonal retraction period. There's still time to get a great deal on your purchase.

Buy now and lock in your interest rate and price before they go up yet again. The FED rose rates in December. While that was the last rate hike for 2018, there will be plenty more in 2019.

Overall we have more options available today than we did last Spring, but everything is 10% more expensive than they were last January. So, you won't don't feel the higher inventory at the lower prices. (Don't let waiting cost you another 10% by next year!) And since interest rates are also higher, it would have been a great time to buy last year! But as the adage goes, the best time to plant a tree is 30 years ago; the second best time is today.

If you are concerned about selling your house because you're afraid you won't find a replacement home, then now is the time to call me!
Conrad Smith
Your Real Estate Consultant
REALTOR®, BOLD, EcoBroker, CNE, CHRE, ILHM, KW Luxury



Professional Denver Real Estate for the Urban at Heart
www.UrbanProHomes.com