The holidays are here and it's the season for deals in real estate! Call me, with your friends and family who are talking about selling or buying!! They can be anywhere in the world. I have a network of more than 150,000 of the best real estate agents around the world, in every market, town, city, and neighborhood. You and your referrals mean the WORLD to us and made up more than 80% of our business in 2018! We can't wait to help even more of you in 2019!!
So, have you been hearing the news?? According to many news outlets, the seller's market is coming to an end!! In fact, even some of my real estate peers are falling for the headlines. On one side, I'm hearing the news and some agents saying the sky is falling!! One favorite phrase I hear often is "The shift is here!" meaning, our market is/has moved to a buyer's market. And the headlines make it seem like home values are plummeting. This couldn't be further from the truth. They talk about what could happen instead of talking about what is happening. Scary headlines sell the news and create clicks. And, when we read closely, most of their facts are accurate, but the way it's presented creates panic when there is none. As for those agents preaching what they read in the headlines? I believe they're only reading the headlines to repeat the "news" instead of watching and understanding the actual market.
In the other boat, we have those of us professionals who are watching a typical seasonal shift which has happened every year. This year, it's a little bit bigger and a little bit sooner than we've seen over the last 5-6 years. But it's nothing to be alarmed about. We're still seeing a huge lack of inventory and homes are still selling. So, don't let them fool you. We're still in a strong seller's market!
A well-priced home is still selling quickly. And while we're seeing more price reductions than previous months, it's typical for this time of year. Most of the pricing issues are due to the agent overpricing the home based on the Summer's activities instead understanding the seasonality of the market. I've been helping a LOT of buyers take advantage of these weak agents and uninformed sellers. When their home has been sitting on the market longer then they expected, it causes them to panic and throw away good money! Because of this, NOW is the best time to buy in 2019 (yes, 2019) – before interest rates head up again and prices start rising any further.
Speaking of prices, home values are expected to stay relatively flat for the rest of the year before rising up again at the beginning of 2019. How soon in the year will it take off? Well, now that the Broncos are not likely to make the playoffs, we can anticipate the market to begin picking up in January like it did last year. Moving right now is an especially great idea if you're entering the homeowner market from renting or you've been thinking about upgrading your current home to something bigger.
I can't repeat this enough – there is no bubble and we won't see some big drop in prices. It's simple supply and demand. Eventually, our market will slow down to a much slower rate of appreciation. We're just not there yet. In 2019 we're still expecting nearly double-digit appreciation (yet again). And with interest rates still on the rise (decreasing your buying power by nearly 15% since last year), money is getting more expensive and so is waiting. If you're thinking of selling, you still have a great opportunity to take advantage of a strong market. For Buyers, the sooner you act, the more money you'll save.
Below are the graphs and numbers to help you understand what's happening in today's market!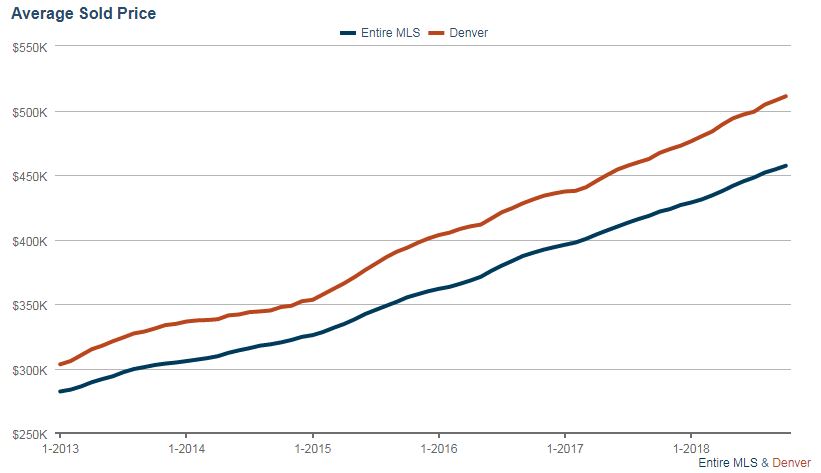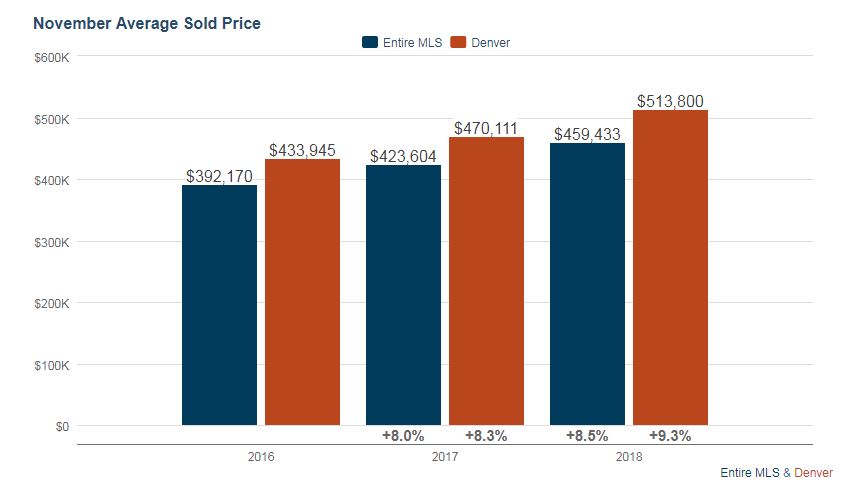 Home values are still strong!! Denver's average SOLD price for the year has topped the at $513,634! As you can see, homes continue to sell for more. We're up in Denver by 9.3% year over year. (That's actually 1% more than last year's year over year.) And the upward price trend continues. We expect the Average Sold price to be relatively level from month to month until the end of the year – just like it's been for the last 4 months. This makes it a great time to move up!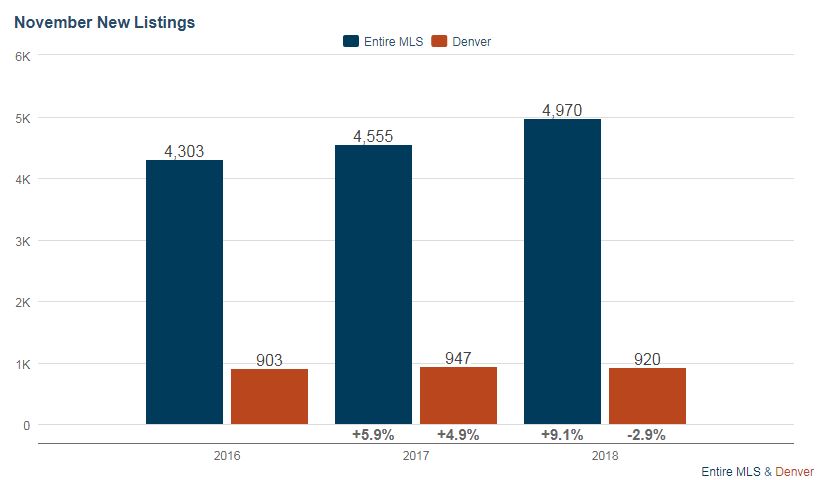 Looking at the new Denver listings hitting the market in November, we see that we're down 3% relative to last year with 920 coming on the market. We'll continue to be low on listings during this time of the year as many don't like selling around the holidays. But it's still less than we saw last year! We need more new listings (supply), not less, in order to combat the number of buyers (demand).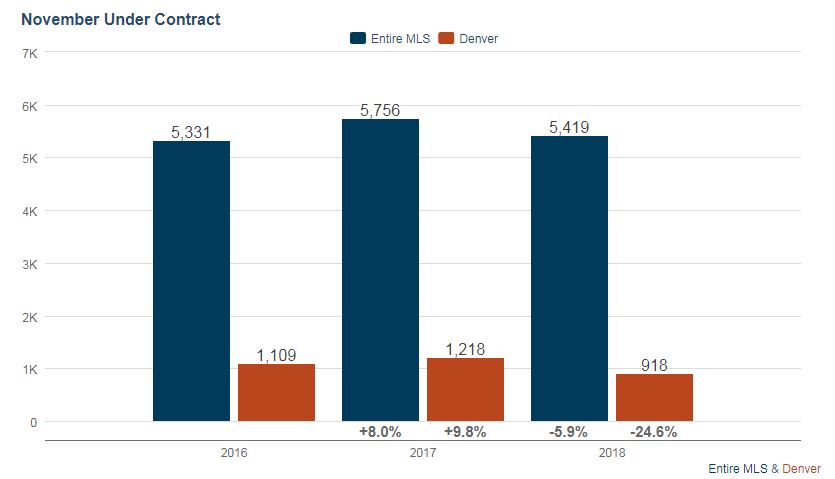 At the same time, we had 918 listings go under contract in Denver over November. This similar to the number of new listings. So, while our total available properties didn't get worse, it also didn't get better. Interestingly, we had about 500 more buyers than new listings across the whole MLS. That's actually putting an upward pressure on prices.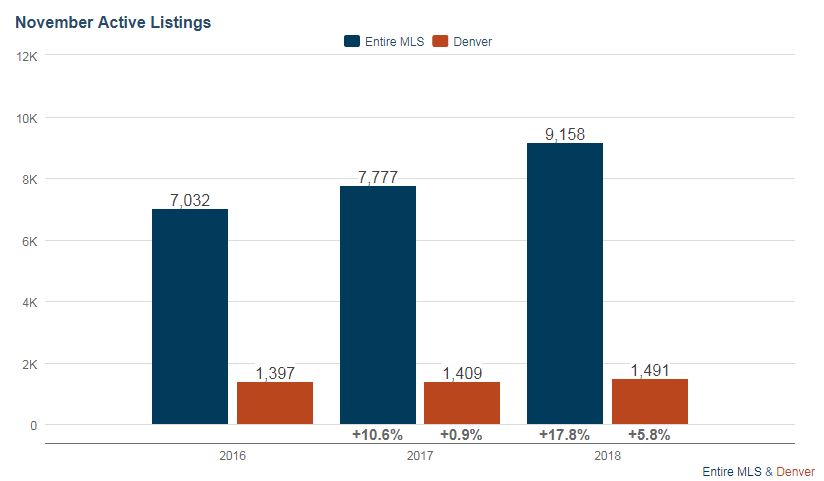 Whether we're seeing more homes on the market or not, we're still sitting in an extreme seller's market. In Denver County, we have only a total of 1,491 homes for sale. While that's an increase of 5.8% from last year in November, it's still less than 1/3 of the homes we need for a balanced market. Our entire Multiple Listing Service gained inventory by nearly 20% from last year at 9,158. This is contributing to our market retraction. Although, this is also due to the expansion of the service area the Multiple Listing Service covers.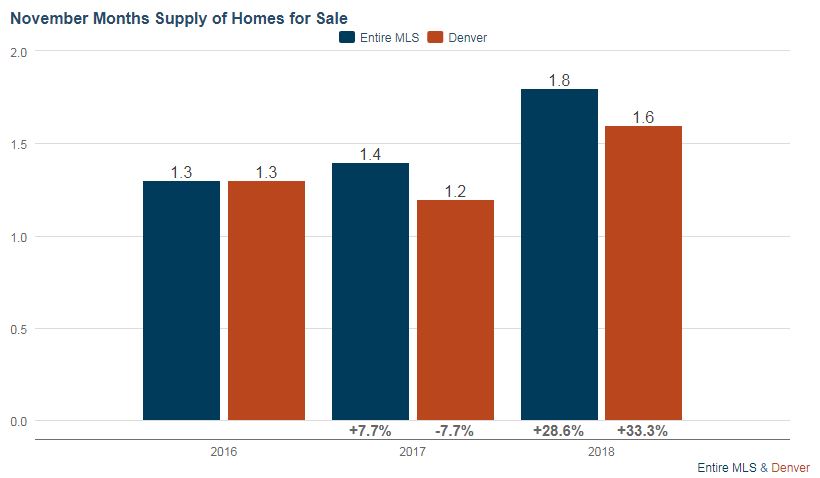 So, here's one of my favorite numbers to watch – Months Supply of Homes". One way to think of it is to say "Homes per Buyer". In a balanced market, we'll see 6 homes per real buyer. This gives enough selection for buyers that home values tend to stay flat. So, as we continue to have very few listings for buyers to choose from and our buyer demand keeps up with the new listings coming on the market, our month's supply is now sitting at 1.6 months. While this is higher than last year at this time, it's still a half month LOWER than we were a couple months ago. These are not really "chicken little – the sky is falling" numbers.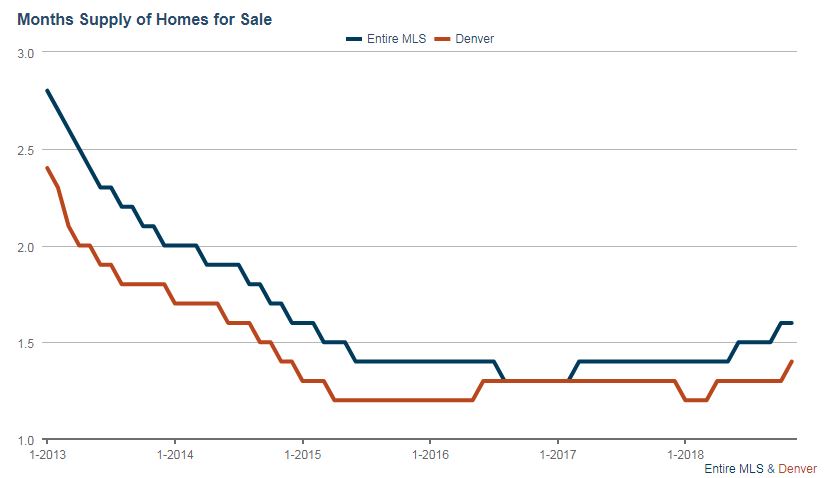 While again, this is the highest months of supply we've seen since July of 2014, as you can see, we're still in an extreme Seller's market. With less than a 6 month supply of homes we'll continue to have an upward pressure on prices. If you're a buyer waiting for homes values to start really going down, we'll need more than 21,000 more homes to suddenly appear in our MLS. OR the number of homes in our market to TRIPPLE! We could also suddenly lose 2/3 of our buyers to get there… But what could possibly cause such a drastic drop in buyers? Your guess is as good as mine. Colorado is too amazing for people to suddenly stop buying here – even as interest rates continue to rise! As a reminder, we haven't seen a 6 month supply of homes in Denver since June of 2011.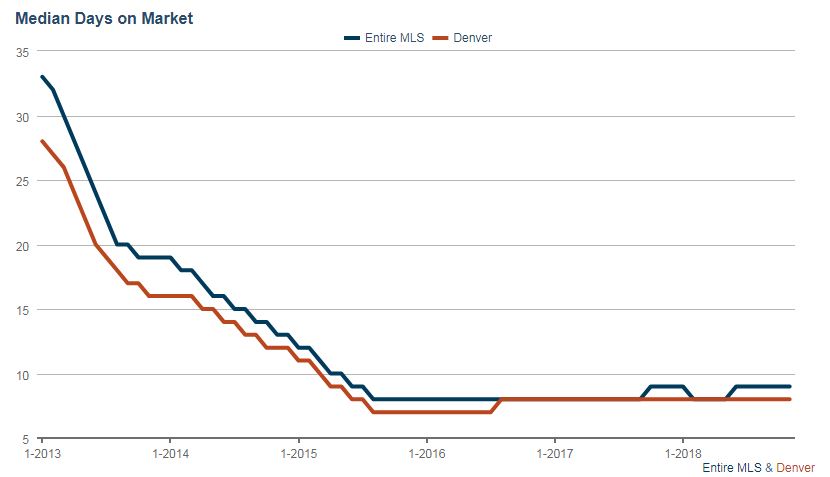 Low inventory will keep our days on market low. While our average days on market has been sitting at around 30 days, that's still very low compared to January 2011 where we were at 111 days. And it's basically no change over the last two years. At Urban Pro Homes, our listing are still selling quickly at about 8 days on average. Compare that to the other agents in the MLS and you'll see about half of the homes are selling in about 2-3 weeks and half are taking quite a bit longer. We're close to our typical peak for this number. Having more homes per buyer causes overpriced homes to sit on the market longer and this is often when less motivated sellers just leave their home sitting, prayer some other agent will sell it. This makes it crucial that you hire a professional like us to ensure you're pricing your home right from the start! This also makes NOW the best time to buy, even if you have something to sell or even if you're "stuck" in a lease. You're likely to save more on your purchase today with lower interest rates than the few extra bucks you might get by selling in the Spring. I've been off-setting the cost of breaking a lease for my buyers by taking it off the purchase price and making the seller pay more of your closing costs.
So, what's the bottom line?
Our market is strong. You can ignore the headlines that are making it sound like our market is "crashing" or even close to doing so. They're just trying to sell a story. We have certainly been seeing a typical seasonal slowdown. It's not unexpected nor is it alarming. Starting in the next few months we'll see limited inventory pushing up home values again. Just don't expect it to be the same as years past. It'll be similar, but not the same. I foresee us having just barely less than 10% appreciation next year.
What will drive this inevitable slow-down? Interest rates going up will make purchasing a home even more expensive in Denver. As home values continue to rise and wages continue to stagnate, home affordability will continue its downward trend meaning fewer buyers in the market.
And job growth is bringing well-paid professionals to Denver who can afford our city. We get lots of buyers from California and New York who think our prices are a steal!! We still have too few homes available for the buyers wanting to buy. Meaning, we will continue to set new records for our average sales price. So, until either more people leave Denver than move here or we build significantly more housing, we will continue to stay in a seller's market. As the market adjusts, Urban Pro Homes will be watching to ensure our clients get the best!
Here are some of the key points:
We're in the middle of our seasonal retraction period. The Months of Inventory has gone up and with it, so has the days on market providing less competition for buyers. If you were struggling to compete in the Spring, now is the time to jump back in and get yourself a deal (even if you're in a lease).
Buy now and lock in your interest rate and price before they go up yet again. The FED will be raising interest rates again. If not in December, early in the new year. And home values will start pushing back up after the first of 2019.
While overall we have more options available now than we did in the Spring, everything is 10%+ more expensive than they were last January. So, you probably don't feel the higher inventory at the lower prices. (Don't let waiting cost you another 10% by next year)
If you were concerned to sell your house because you were afraid you couldn't find a replacement home earlier this year, now is the time to call me!
For more information on the market or to talk about your specific situation, reach out and call me!
Conrad Smith – Owner
Your Real Estate Consultant
REALTOR®, BOLD, EcoBroker, CNE, CHRE, ILHM, KW Luxury



Professional Denver Real Estate for the Urban at Heart
www.UrbanProHomes.com